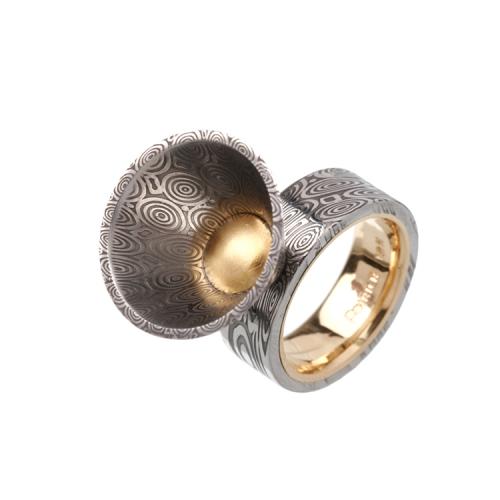 Welcome
G. Phil Poirier is a master gem cutter and goldsmith. He hand-crafts Damascus Stainless Steel and 18K Gold into rings and bracelets, and ornamentally turns rare woods into objet d\'art.
Rings
,
Pendants
,
Earrings
,
Bracelets
, and
Cufflinks
.
The ancient technique known as
Damascene
dates back to 700 a.d. The process consists of welding two different alloys of steel and iron, folding and welding again many times to develop numerous layers. These layers when revealed by etching, form an aesthetic, undulating pattern on the metal surface. Phil employs this technique by using modern stainless steel alloys, and combines it with gemstones and 18 karat gold for one-of-a-kind jewelry.
G. Phil Poirier
Click here for gallery locations.
email
info@gphilpoirier.com
All Designs Copyright Poirier 1983-2020